About project
Custom solution for management of highest priority projects and programs of regional government
Facts
39
regional government departments,
10
state companies and
44
municipalities use the system.
More than
1,300
of highest priority issues are being managed.
Customer

The government of Krasnodar Region.
Krasnodar region is a federal subject of Russia, located in the Southern Federal District. The region population is about 5.5 million people on the territory of 75,485 sq. km.
The Region is characterized by industrial and agro-recreational type of development. The basis of the regional productive forces constitute the industrial, construction and energy complexes, information and communication technologies, as well as agro-industrial, transport, resort and recreation, and tourist complexes. The last three - agriculture, transport, and hotel & tourist complexes - correspond to the priorities of socio-economic development of Russia and determine the special status of the Krasnodar Krai in the national economy.
Also Krasnodar region city Sochi was the host city of Winter Olympic Games of 2014.
Goal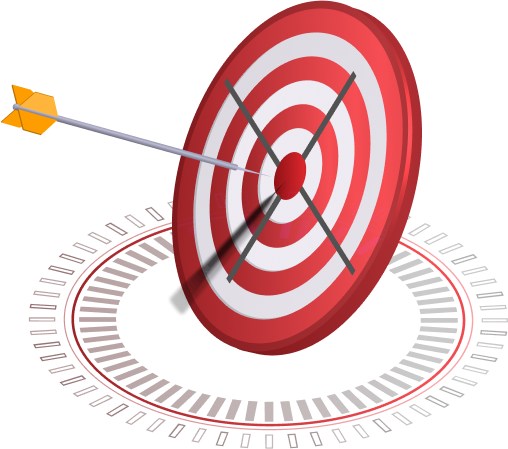 To facilitate the efforts consolidation and the controllability of disintegrated government authorities working on mutual goals.
Challenge
The Krasnodar Region top management includes governor and 8 vice-governors. Each vice-governor is responsible for a block of government authorities by their general purpose. For example, social block contains Department of Health Care, Department of Social Support, Labor and Family Policy, Department of Education, Department of Culture and Informational Policy Department. Economic block contains Department of Finance, Department of Economy and Department of Audit.
Every department is an independent organization with its own managing staff, state structure, procedures, informational systems and budget. However, they all implement general regional strategy.
Thus, the management of such dissimilar authorities is extremely difficult and delicate process. Balanced influence is a key there. From the one side, all the departments must have clear goals and transparent structure of work to understand their role in each multi-authority project. But, from the other side, it is very important to avoid micro-management which can cause the conflicts of interests between vice-governors and heads of the authorities.
In addition, any project management systems must not conflict with different systems that already used by government authorities. It must integrate with them. And it also has to provide clear information about current status and available resources.
Tasks
1
To provide integrated multi-authority project management.
2
To provide staff completeness control.
3
To provide lawsuits monitoring.
4
To provide personal task and event planning.
5
To integrate with docflow or management systems used by authorities.
Implementation
Spellsystems has implemented web-based project management solution with mobile applications for personal task and event planning.
Systems contains 4 parts:
Project management portal.
Integrational platform.
Mobile applications for personal task and event planning.
Administrative portal.
The project management portal provides functionality for work breakdowns creation, tasks assignment, task delegation, control and reporting. It also implements functionality for federal ranking monitoring, staff completeness control and lawsuits monitoring. The federal ranks monitoring allows tracking the positions of Krasnodar Region in national ranks by highest priority indexes. Staff completeness control indicates risks of failure in a reason of staff problems. The lawsuit monitoring helps to control lawsuit stages and results.
The integration platform implements all the software interaction interfaces used to exchange data with external information systems and own instances.
Mobile applications implement a personal planning in context of global tasks and a control of delegated tasks.
Systems has several instances. One instance for every vice-governor and one for Department of Control.
Results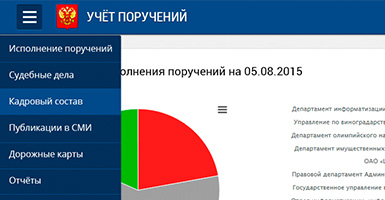 2
The system has a list of key features:

Management and control orders on all regional government bodies;
Task and event planner;
Voice orders;
Roadmap and federal programs' events completion control;
Cases' statuses monitoring;
Periodical reports publishing;
Mass media control and tracking the moving forces and trends in periodical ratings;
Publishing information about departments stuffing structure.
Technologies
Basic technologies
---
Java (Android), Objective-C (iOS)
---
PHP, Xamarin
Storing and working with data
---
MySQL
Web Interface
---
JavaScript (jQuery)
Platforms
Web services
Web applications
Mobile applications
Team
1 project manager, 1 PHP programmers, 1 system administrator, 1 user interface designers, 1 HTML programmer, 1 mobile developer, 1 Java (Android) programmer, 1 Objective-C programmer